Firebird Smokey's friend, Reddy the Fire Extinguisher can also save your life or that of your family
Reddy the Fire Extinguisher can go anywhere:
Into your Family's Kitchen;
Into the Garage;
Into the Car.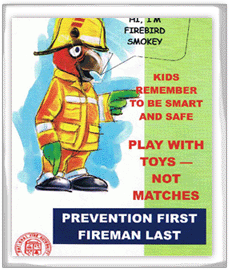 If you don't know how to use Reddy the Fire Extinguisher, Firebird Smokey and his friends at the National Fire Authority are happy to show you how.
Make sure your home has a smoke alarm.
Test your smoke alarm once a month
Change your smoke alarm's batteries every four months -- IT'S AS EASY AS 1, 2, 3
In Case your clothes catch fire.

Your Check List!!
Is your local emergency phone number on your telephone?
Can your house number be seen from the street so that emergency vehicles can find you?
Do you have a smoke detector in your home? Do you test it monthly? Hint..Change batteries every four months.
Do you practice Operation EDITH(Exit Drills in The Home) at home? Do your parents talk to babysitters about the family EDITH plan?
Is there a fire extinguisher in your home? Does everyone know where it is and how to use it?
Are matches and lighters in a safe place from children?